Students! Did you do your profile survey? Check your email for a chance to win a £20 voucher and tell us what you think now!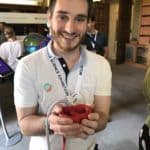 I am over the moon that the students chose me! I had such a great time interacting with them and the other scientists were so smart and interesting that this is very special to me. Many thanks to them and to the I'm a Scientist team who worked very hard to make this event as fun, enjoyable and lively as possible. Mission accomplished!
I also want to thank the Schools of Bioengineering and Cardiovascular Sciences at King's College London where I work. They have always been very supportive of STEM engagement and gave me the opportunity to change my approach of my work.
While doing STEM engagement, I have always been stricken to realise how little I know about basic phenomena related to my field of research. Until last week for example, I had never wondered why blood was red or how much of it does our body produce in a day. These are yet simple questions, the kind of which often only children with their common sense and no filter approach could ask, but they make us wonder how we have been able to get this far without knowing this…
When I started my PhD, a friend told me the degree taught him how to do research but it is only by doing science outreach that he learnt his research topic's in and out. He was so right! And it is broader than that, as I also got to learn what a tardigrade was (spoiler alert: it is a very small water bear and kids somehow seem to love them) and that there is a popular belief in the UK that eating cheese before going to bed gives you nightmares (something that even the Frenchman that I am didn't suspect nor experience).
The breadth of scientists gathered by the organisers also contributed to make this experience special. We often got asked "how do you become a heart scientist and what do you do exactly?" and the best answer was to just look at how diverse our profiles were to realise that there are many different ways to study the heart. You can be a real doctor doing research like Pankaj, an academic focusing on the relationship babies have with their environment like Lucy, a scientist assisting clinicians in the operation room like Emma, a scientist testing and processing blood perfusions like Jordan, a student or an engineer looking at the heart from a mechanistic point of view like Kate and me. This shows very well the interdisciplinarity and collaboration needed to move projects forward and I hope the students understood this message as it doesn't only apply to science!
Finally, if anyone is interested in participating in I'm a Scientist, I would highly encourage them. It is a great, fun and rewarding experience! Plus, who can say they had a chance to create scientific vocations?
Scientists! If you'd like the chance to win funding for your own public engagement work, apply for the next I'm a Scientist, Get me out of here: imascientist.org.uk/scientist-apply