Profile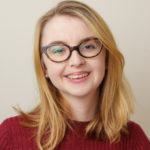 Kate Kuyt
My CV
Education

Leeds University (2009-2012)

Qualifications

GCSE's, A-Levels, Bachelors Degree, Working towards my PhD.

Work History

At a Pharmacy, In an office, For a private research company in the USA.

Current Job
About Me:

A 26 year of PhD student in Manchester.

Read more

Hi;

I am Kate, I live in Manchester with my husband, and am currently studying for my PhD. We live in a small flat but enjoy going on walks and adventures at the weekends, we also volunteer at our local church. We don't have any pets at the moment but I hope we will in the future!

My Work:

Studying for a PhD looking at hearts.

Read more

I am currently studying for my PhD, where my main focus is on cardiac mechanics (how the heart changes shape when in beats) in patients with aortic stenosis. Aortic Stenosis is an illness where the main value between your heart and your blood vessels becomes stiff and doesn't work as well.

I look at ultrasounds of a patients heart who has this illness and take measurements to see how their heart is working. The patients will then have one of two different surgeries to fix their valve. I will look at another ultrasound after the surgery to see if the heart is now working better.

Hopefully when I have all my data I will be able to compare the two different surgeries, and how the heart recovers.

My Typical Day:

Everyday is different, but often I am; analyzing scans, writing for my thesis or other projects, and some form of other professional development/outreach.

Read more

The life of a PhD student doesn't really have a typical day! I can work from study areas at the university, my desk at home, or from my desk at the hospital.

Most weeks contain the following;

Analysing scans; I have to be at the hospital to do this, as this is where the images are stored (to keep them safe and private). I receive 'pictures' of the heart and take measurements on them to assess how well the heart is working. Recording the results.

Checking Email & Admin: Like nearly all jobs, there is some administration involved, I have to stay in touch with my supervisors and other people to make sure everyone knows what is going on!

Professional;/Development: I also take part in training courses and other opportunities to learn skills outside of just my research. At the moment I am helping to plan a small conference at the university for students to present their work. I also enjoy doing events like this, speaking to young people about science, I am a STEM ambassador.

Writing; Every PhD students has to write! We write our thesis (the big essay you hand in and get marked on at the end), articles for scientific journals (magazines all about the science people are doing at the moment), and updates for the university/advisors to keep track of your progress are just of the things we write.

What I'd do with the prize money:

I will create an educational video/series of videos showing how the heart works in detail.

Read more

If I win I would like to create a few videos explaining cardiac mechanics. These would focus on the Left Ventricle and would explain the architecture of the myocardial layers. The concepts of strain, rotation and twist would be introduced.

I think this would be a really valuable resource for schools, as the heart is a 3D structure it can often hard to explain coherently with 2D images. I would like to produce different versions of the video aimed at different academic levels.
My Interview

How would you describe yourself in 3 words?

Excitable, Geeky, Chatty

What or who inspired you to follow your career?

My mum, and now my husband have always been a great encouragement to me.

What was your favourite subject at school?

Science!

What did you want to be after you left school?

Originally I wanted to be a Doctor, but i decided to work in research instead.

Were you ever in trouble at school?

Not often, but sometimes for talking too much!

If you weren't doing this job, what would you choose instead?

I am not sure, there are so many interesting jobs I would like to try.

Who is your favourite singer or band?

I really like Michael Buble.

What's your favourite food?

Chicken Curry, or Lemon Cake.

What is the most fun thing you've done?

Maybe going Ski-ing down the mountains in Colorado, that was lots of fun.

If you had 3 wishes for yourself what would they be? - be honest!

To do well in my PhD. To be kind. To become an great cook.

Tell us a joke.

How much does a Polar Bear weigh? Enough to break the ice!
My profile link:
https://ias.im/u.181102
---
---