Profile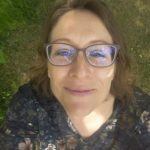 Lucy Green
My CV
Education

1981-1988 Camden School, London; 1988-1991 King's College London; 1992-1996 University College London

Qualifications

BSc Physiology; PhD Fetal Physiology

Work History

Cornell University, USA; University of Western Ontario, Canada; University College London; University of Southampton

Current Job

Associate Professor in Developmental Physiology

Employer
About Me:

A fun-loving scientist with an artistic spirit

Read more

I live with my partner and our 2 children (11 and 9) in a village in Hampshire. We've got 2 guinea-pigs and 2 hamsters and dream about being responsible enough to own a dog.

I love to sing (currently a big community chorus, but I secretly would like to sing Jazz in a smokey night club) and to look at art.

My favourite time of day is when the sun starts to go down on on a summer's day … the sound of the wood pigeons…

My Work:

My work is about the responses the unborn baby makes to its environment, like the mother's diet.

Read more

My work is about the responses the unborn baby makes to its environment, like the mother's diet.  The kind of responses I investigate are in the heart and blood vessels of the baby, and also the how the skeletal muscle develops.

If the mother doesn't get enough nutrition during pregnancy (calories or even not enough vitamin D) or if the diet is too high in fat and sugars, then the unborn baby will change where the blood flows in its body and how its organs grow.  This can change how it copes with the world it is born into.  If it doesn't cope well then this will increase its risk of developing certain diseases in later life (like cardiovascular disease or diabetes).

My Typical Day:

Analysing data, Writing papers, supervising students, teaching undergraduates, sitting on University committees and talking about science

Read more

Not many of my days in the week are the same.

One thing is constant though – I drop my youngest at the school gate every day.  Drive to the University, get coffee (!!) and check emails.

I don't really do lab work any more, but I supervise students and staff who do. So some days I'll meet with them and discuss their progress.

I may then settle down to analysing scientific data … turning the observations we've made in experiments into numbers in tables, sorting them and looking for patterns in the numbers. I have to try to understand why we've seen what we've seen! So that means searching through the work that's been done by other people to see if that helps.

I teach students in the 3rd year of their degree course in science – so I might give a lecture or be marking exams.

I am Assistant Director of our Institute of Developmental Sciences. I lead on our engagement programmes and try to coordinate events and ways to talk to the public about the science that we all do and the way it could change health over the life course.

There is also some sitting on University Committees for this that and the other – but you don't want to hear about that stuff.

Read more

I would like to spend the money on working with a cartoonist to devise a comic book.  I want to see if we can use strip cartoons to explain the science we do and help young people like you to understand how it could change your eating and exercise habits – to make THEM healthy, but also for the benefit of any children they may have in the future.

Not really the right topic, but this one recently made me laugh a lot!
My Interview

How would you describe yourself in 3 words?

chatty, dogged, dreamer

What or who inspired you to follow your career?

A chemistry teacher at school, my first boss in USA and my PhD supervisor

What was your favourite subject at school?

Biology (and Latin!)

What did you want to be after you left school?

A violin-playing scientist with a greengrocers shop

Were you ever in trouble at school?

yes, but rarely and always for a REALLY good reason

If you weren't doing this job, what would you choose instead?

reporting on science

Who is your favourite singer or band?

David Bowie

What's your favourite food?

goat cheese and fish

What is the most fun thing you've done?

Paragliding off a 6000ft mountain in Turkey

If you had 3 wishes for yourself what would they be? - be honest!

less cautious, have some sort of tan, own a dog.

Tell us a joke.

no, it will only get me into trouble.
My profile link:
https://ias.im/u.181101
---
---